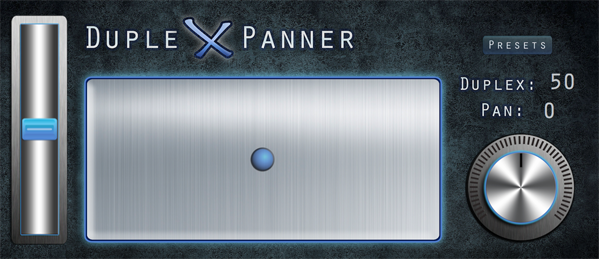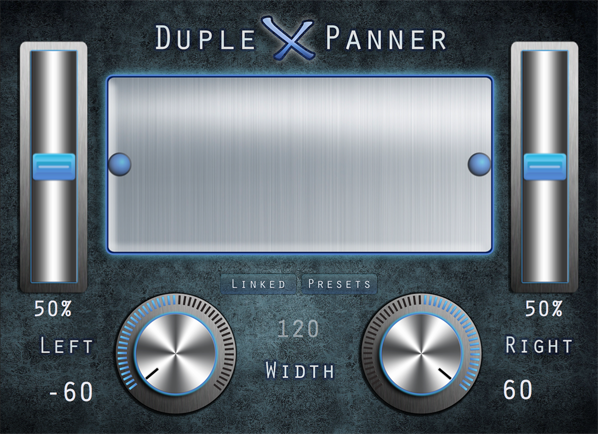 Pan the knob like you always do,
use the Duplex slider to enhance your sound!
The Duplex Panner is an innovative and novel enhanced stereo panning technique. Its integrated algorithm from the 2014 AES award-winning Best Student Technical Paper combines Binaural and Ambiophonic 3D audio technologies to expand conventional amplitude-based panning into an enveloping, wide and spacious sound field. The plugin provides engineers and users with a two-dimensional panning plane that extends the stereo image beyond the speakers and outside the head with 120 degrees of width and depth. Unlike Binaural technologies, the Duplex Panner transparently translates between speakers and headphones without any distortion or comb filtering. Additionally, the plugin is entirely customizable, allowing the user to determine the amount of effect used while seamlessly transitioning between traditional stereo and Duplex panning.
Click here to listen to an audio demo, and compare Stereo and Duplex panning techniques on the same musical content (stems)!
Download Files
32/64-bit AU / VST / AAX
Pro Tools 10/11 & Logic 9/10
Mac/ Windows Compatible*
Up to 96 kHz Functionality
Automation for all Parameters
List of Suggested Presets
Intuitive GUI
Stereo/Mono Compatible**
*Mac OSX 10.7.x (Lion) to 10.10.x (Yosemite) and Windows 7 
**For stereo sources the plugin should be inserted on a stereo track and it will load in stereo mode - wherein you can control the pan and duplex amount of each audio channel. For mono sources be sure to use a mono track so that the plugin will load in mono mode. It will then make the track a stereo track.
To Download Your Free Plugin Please Register/Login